Elixir: The Medicine of H.O.M.E (Honoring Our Mother Earth)
Event Navigation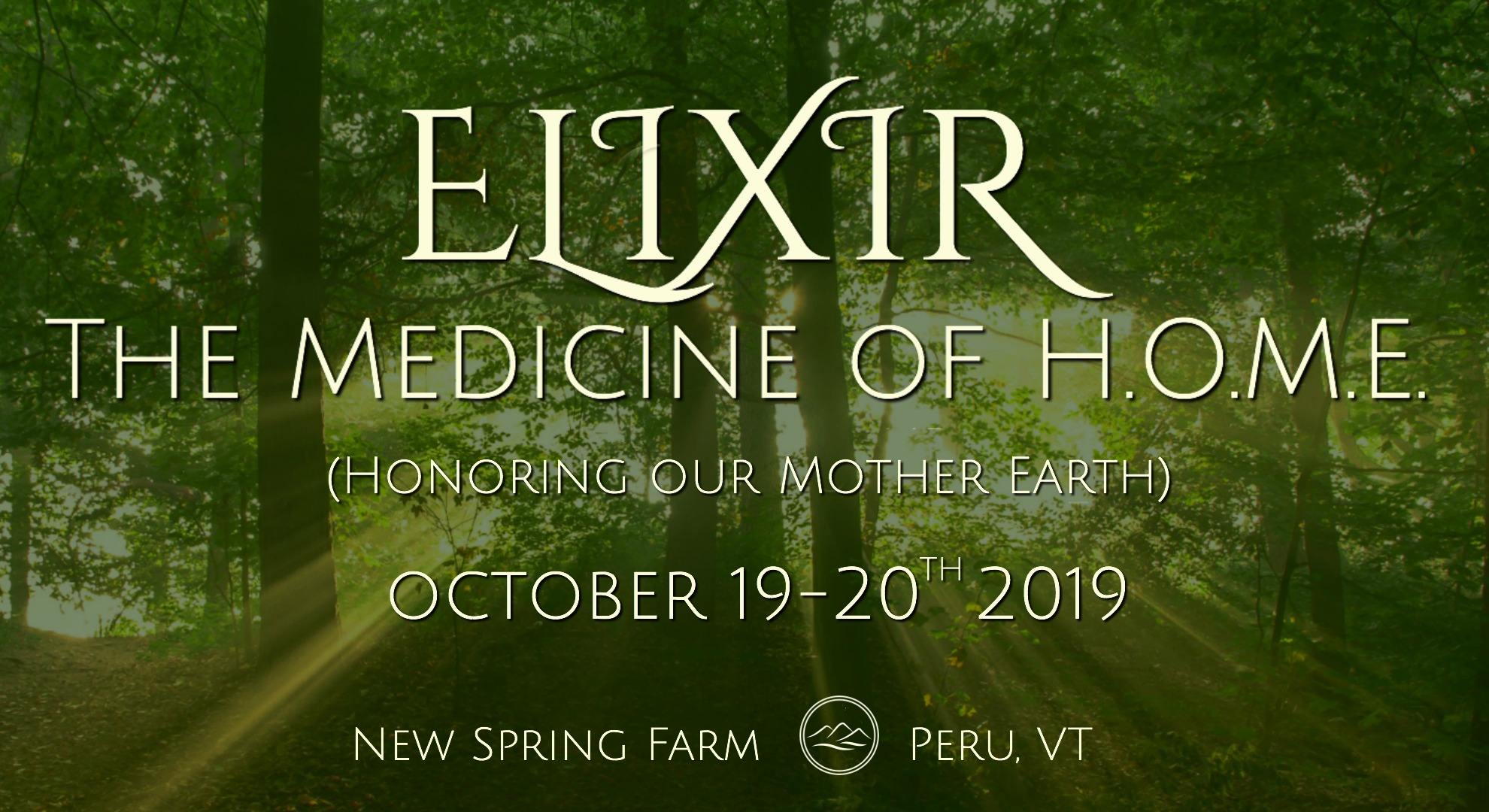 Join Jennifer Rose, Gardner Orton and Julie Dokas for this 2-day transformational journey supported by a connection with the land within the heart of the Green Mountain National Forest, at New Spring Farm in Peru, VT.
During this immersive 2-day retreat, we'll explore contemplative practices alongside land-based ceremony for a deeply healing and transformative journey within.
Features include Yoga, Breathwork Journey, Fire Ceremony, Flower Essence Alchemy, Conscious Eating and a Medicine Wheel Ceremony.
EXPLORE CONTEMPLATIVE PRACTICES
IGNITE YOUR SACRED. WILD-FIRE WITHIN
PARTICIPATE IN EARTH BASED CEREMONIES
DEEPEN YOUR CONNECTION TO THE EARTH
GROW BEYOND YOUR PERCEIVED LIMITATIONS
GET DEEPLY ROOTED IN YOUR BODY BREATH & SPIRIT
RECEIVE GUIDANCE & SUPPORT ON YOUR HEALING PATH
The Details:
October 19th 10 – 10pm & October 20th 8:30am – 5:30pm
$439 includes 3 Organic, vegetarian meals.
**Early Bird Discount $389 (Register by 9/15/19)**
Accommodations not included, but resources will be provided to connect you to local hotels & Air B&Bs. Camping at New Spring Farm is an option as well.
Deadline to register August 1st.
WHO WE ARE
Gardner Orton is the founder and director of Sacred Mountain Wellness, with locations in Burlington and Peru, Vermont, as well as the visionary founder of New Spring Farm. As a Certified Integrative Nutrition & Lifestyle Counselor and Somatic Breathwork Therapist, Gardner works with both individuals and groups to create positive, long-term results. A student of Alternative Health for over 25 years, Gardner helps his clients to heal physically, emotionally, and spiritually through one-on-one counseling, guided breathwork healing sessions, and group workshops. Gardner's practice embodies the philosophy that true health and happiness are only achieved when all areas of one's life are in balance.
Julie Dokas is the founder and creator of BiolumenEssence, a company whose mission it is to connect people to the heart and soul of nature while deepening their awareness and experience of their own innate luminosity. She refers to herself as an Energetic & Botanical Alchemist, as her work is a synthesis of 22 years of immersion in various modalities of energy work, eastern & western herbalism, holistic nutrition, and clinical aromatherapy. She is most passionate about her work with flower essences, as they bridge the gap between herbal & vibrational medicine, and are subtle yet powerful catalysts for transformation, growth & conscious evolution.
Jennifer Rose Esposito is the visionary founder of Peace of Paradise and Caretaker & Wellness Coordinator at New Spring Farm. As a Reiki Master Teacher, Holistic Health Counselor, and Yoga Instructor, she has been co-creating sacred space for powerful positive transformation for over a decade, working with people one on one and in groups. The fundamental element of her practice is to inspire, empower & support others to honor, strengthen, & trust their inherent intelligence and Divine guidance. The unconditionally loving safe space Jennifer creates, illuminates the depth of each individual's unique Divine potential to manifest their heart's desires for their highest healing good.
For more details and to register, please visit www.newspringfarmvt.com or email Gardner Orton at [email protected]